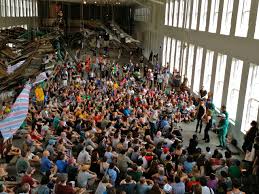 Managing Pop Ups
The refurbished factory offers unique listening experiences in galleries and off corners. I managed crowds, artist logistics, safety protocols and staffing.
Rock and Roll Museum
Building capacity for up to 13,000 patron and 50+ bands and live events for one-offs and festivals.
Supporting VIP Events
Finding room for all and supporting VIP experience during ongoing festivals and exhibitions with patron experience in mind.
Volunteer growth
Under my leadership volunteerism grew four fold, from 50 to 210 regular volunteers. I managed recruitment, training, and staffing throughout all events.
One-Off Large Capacity Line Producing...
Grizzly Bear 2016 & 2018 (this is from their instagram)