Katie Workum's 'Black Lakes' ( excerpt: Eleanor's solo)
Artist: Katie Workum
Project: Black Lakes
Project Description: Black Lakes is an investigation into a new way to create and see. Making a turn away from more theatrical, tightly orchestrated choreography, Black Lakes foundations lie in more than the movement, but in an attempt to strip away conventional expectations within the performer herself and with audience as well. Black Lakes was developed alongside an ongoing authentic movement practice with bessie-nominated Eleanor Smith, Weena Pauly and Workum. The three performers move in and out of solos, unison, and duets contained within a set structure and the content of every performance will be created anew each night.
Services: Lead Producer, Booking Agent, Fundraiser, Press
Sites:
Mount Tremper Arts
Danspace project
Mass MOCA with Jacobs Pillow
Developmental residencies: Mount Tremper Arts, MASS MOCA, Northampton School for Thought & Dance
Katie Workum's 'Black Lakes
Artist: Katie Workum
Project: Black Lakes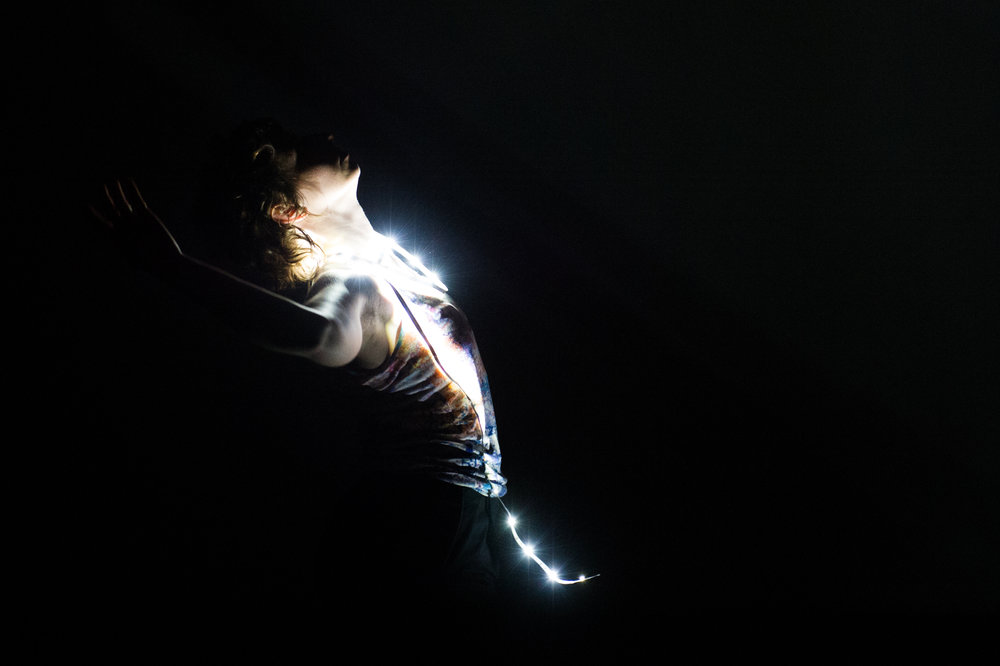 Katie Workum's ' Here Are The Mountains'
Artist: Katie Workum
Project: Here Are The Mountains
Project Description: Here Are The Mountains slips between desires for creation and demolition and takes its form as a shifting and temporary monument. The performance folds dancer, object, and belongings into one. Using their bodies as well as the materials and detritus of the immediate environment, Katie Workum, Eleanor Smith and Weena Pauly assemble a temporary shrine to place, community and femaleness. The dancers' heightened state of performing is simultaneously ripe with the urgency of negotiation, as well as the meditative contemplations of experienced practitioners. As both a ritual act and a rebuke of permanency, Workum calls to mind the driving concepts of ephemeral art, feminist art, site-specific land art, and sculpture. Collaborators James Lo, sound, and Madeline Best, lighting, further the process by creating sources to be manipulated within the piece by the performers in real time. Workum and her collaborators absorb and imprint the space with extemporality while maintaining choreographic expertise. Each monument is unique unto itself to act as a true reflection to the richly layered and shifting present, yet themes run throughout a building period over time, marking a larger sense of time and change.
Services:lead producer, press agent
Sites:
92nd St Y
Mettabee Farm and Arts
Brooklyn Studios for Dance (BkSD)
Photo By: Paula Lobo
Katie Workum's ' Here Are The Mountains'
Artist: Katie Workum
Project: Here Are The Mountains
Photo By: Paula Lobo
Katie Workum's 'Living Gallery'
Artist: Katie Workum
Project: Living Gallery
Project Description: How do we employ necessary tactics for collaboration while staying invested in our freedoms and autonomies? Blending ritual, Authentic Movement and an improvisational practice and performance model, this ongoing work endeavors to make an alternative culture for creation based in cultivated risk and care. Leslie Cuyjet, Weena Pauly, Jess Pretty, Eleanor Smith, David Thomson, Anna Witenburg and Darrin Wright are the builders and the container, working together live to testify our shifting present, selves and group. This is a performance, practice and public experience as one.
Services: producing associate, project advisor, casting advisor
Sites:
Gibney Dance (New York)